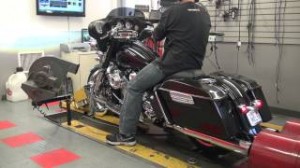 Harley-Davidson is an iconic motorcycle, produced in the United States. Often referred to as an H-D, or Harley, this bike has been produced for generations and has gone through some great changes over the years. It all started when a 20-year-old named William S. Harley began drawing pictures of over 116 CC motorcycle engine, which he dreamed of installing onto a regular pedal bike frame. This is a far cry from the machines that we ride today, purchasing custom Harley parts as often as we purchase T-shirts! But Mr. Harley had a dream, and confided in his childhood friend, Arthur Davidson, and the work began on their motor bicycle in Milwaukee, Wisconsin!
Henry Melik, a friend who owned a machine shop, also assisted in the development. The first model was finished in 1903, and at this point Walter Davidson, Arthur's brother was helping in the program. Not having enough power to climb the hills around Milwaukee, Harley and the Davidson brothers reached despair. But, they did not give up, and the next model began fruition immediately. This is considered the first 'real' Harley Davidson, and had a 405 cc engine.
Harley-Davidson motorcycles grew through the '20s, and were getting better and better as the first 74 inch V twin was introduced in 1922. But, barely making it through the Great Depression, Harley Davidson was producing industrial power plants based on a motorcycle engine design. With many ups and downs over the years, Harley-Davidson remains strong as a motorcycle manufacturer here in the United States. But in 1969, the company was sold to the dismay of many loyal owners, to American Machine and Foundry (AMF). This was a drastic downturn, as AMF cut the workforce, which inevitably caused a strike in labor and a lower quality motorcycle. Their reputation was damaged at this point, as sales declined and people were making a mockery of the HD name. They were called "hardly drivable", and 'hardly Abelson'. Near bankruptcy, AMF decided to sell off the Harley-Davidson company in 1981 to a group of investors for $80 million. This is where the legend of Harley-Davidson took off. Manufacturers started making custom Harley parts, and in 2000, Ford actually introduced a Harley-Davidson trim package on their F-150, which ran until 2004, when they put it into their Super Duty model.
The legend of Harley-Davidson runs strong today, with more Harleys on the road than any other bike in production. They're easily customizable, so you can make your own. The performance parts are overwhelming. Custom Harley parts can be found at every motorcycle shop and every motorcycle rally. After adding performance parts to your Harley Davidson, bring your motorcycle to DAS performance located in Dracut, Massachusetts to have it dyno tuned. We are the industry leader in installing and tuning ProCharger performance products, and can easily kick up the performance of your Harley Davidson. Give us a call at 978-453-0807.